(Or the World's Fittest Chiropractic Student)
Watch the full video HERE.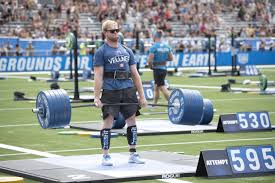 It's no secret that we love to move at the Cafe of Life! It's also no secret that we love CrossFit (*A properly programmed CrossFit class allows you to fulfill the Move by Design principles). One of the coolest parts of CrossFit is the CrossFit Games (you might have seen it streaming on our office TV). It starts as the CrossFit OPEN. Over 5 weeks starting in late February, CrossFit releases new workouts and the world completes them. Everything is done online and as the weeks go by you can compare your score to your friends in your gym, in your region and even worldwide. In the Canada Region I finished in 2289 place. Canadian, Patrick Vellner and chiropractic student at CMCC in Toronto (the same school as Dr. Jamie and Dr. Justine) finished 1st. The top 25 athletes in each of the 17 regions then qualify for 1 of the 8 different REGIONALS in May, a weekend grinder where numerous regions are compete against together with the top 5 individuals going on to the CrossFit Games (Partick Vellner placed 3rd in the East). And then there's the GAMES, hosted in July this nearly week long spectacle of fitness takes those top 40 athletes and have them compete numerous workouts before crowning the overall point leader — the World's Fittest. This year, relatively unknown athlete Patrick Vellner won the Rookie of the Games award and even more impressive 3rd overall. Knowing he was a chiropractic student, I contacted Patrick and arranged an interview. He was kind enough to oblige.
Brent: So, I'm sitting down now with the World's 3rd fittest man having just finished the CrossFit Games, it's an honor to speak with you, Patrick. How does a kid from Red Deer Alberta become the 3rd fittest man?
Partrick: Happens slowly, just a day at a time. I was a fairly high level athlete in multiple different sports growing up. I was a gymnast for just under 15 years and when I retired from that I had a huge void in my days. I met some friends doing CrossFit at the end of 2013 and I started doing that and I sucked. But it was something we did for fun, we entered some local competitions and I think my background (gymnastics, lacrosse &rugby) allowed me to push myself harder than the average person. This year, it all kind of snowballed in the OPEN. The expectations was to finish top 5 in the region but after the first 3 weeks I was in the top 10 world wide and I was like, Hey, maybe I can finish top 10 in the world (Patrick finished 8th). So I did that. Then went to Regionals and just to get a spot to the Games was the goal. I hurt my arm part way through (tore the long head of his bicep) and after a couple of days it seemed I could still qualify and hit the podium. Then I did that. Same thing at the Games, I wanted to finish top half, top 20 was I all I wanted. Then after a couple of days it seemed I was a little better than I thought. I had the opportunity I had to finish in the top 10 and that was where my head was at. Then on the last day (of the Games) I was paying more attention to where I was sitting and I would have been disappointed not to finish in 3rd place.
Brent: You're a chiropractic student now. What lead you into chiropractic?
Patrick: Like I said, I have a pretty extensive sports background, and my family has got a number of friends who are chiropractors in Red Deer, so I always grew up getting treated by a chiropractor fairly regularly and enjoyed it. I just had a good experience with chiropractic growing up so that played a bit of a role in it and I always wanted to be involved in health care because I've been a healthy individual my whole life and I like to promote health and wellness. It was a field that stuck out to me as having a good atmosphere around it because you have people coming in to see you who are interested in maintaining or developing a better understanding of their health and it's a little bit more teaching than straight up treating. You have people who choose to come and see you.
Brent: Right. So how do you balance all that (school, training, travel)?
Patrick: I don't know. It's like you keep a lot of balls in the air but I wouldn't be doing everything if I didn't enjoy it. If school begins to suffer I 'll just have to cut it back on my training hours a little cause that's my priority. I'm in school and an athlete on the side.
Brent: So, what can we expect from you in the future?
Patrick: I'm fairly certain that I can make it back to Regionals if I stay healthy but Regionals is anyone's game. You can't afford a hiccup. Obviously, I'd like to make it back to the Games. I'd hate to place 3rd (this year) and not make it back. So, the plan is to keep grinding at it and chipping away day by day.
To follow Patrick Vellner, you can find him on Facebook or Instagram.