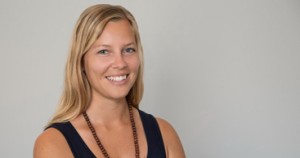 By Rebecca Ogilvie
When I first saw the Cafe of Life job posting, I knew this was not only a place I wanted to work, but a team/family – and approach to life – that I wanted to be a part of. The call for a "superstar" with a "wow" factor really spoke to me. I could tell they were looking for someone different, someone with a story and someone who would rise to the challenge of attempting to fill Laura's shoes. I'm really hoping I can be all of those things and maybe even bring a different kind of spark to the Cafe. Thank you so much to everyone I've already met for genuinely welcoming  me! My first few weeks have been a ton of fun and I look forward to getting to know all of you even more.
Why don't I start by sharing a bit of my story? Born and raised in London, I had a pretty typical Canadian upbringing. My Mom, Dad, Brother and I spent our summers at Ontario's beautiful provincial parks, my Oma and Opa's cottage on Lake Erie and running around my Aunt and Uncle's cattle farm in Bruce County. The colder months were dedicated to school, celebrating the traditional holiday's with family and attending dance lessons. I practiced all forms of dance (with a focus on ballet) until I was about 20 when my love for movement transitioned to yoga.
Previously, I worked at BMO Nesbitt Burns (an investment firm) for about 8 years. I was very drawn to the fast-paced environment and ever-changing industry. This passion and enthusiasm advanced me from a part-time receptionist to full-time Investment Representative in a matter of years. However, as my values and ideals continued to evolve I found myself less passionate about those corporate principles that had originally lured me in. This is around the same time that I got antsy and wanted a bit more than the "cookie cutter" life I had created.
The last few years of have been a bit more unconventional. I've been on two long term backpacking trips spanning 22 months of travelling. My travel partner through it all has been my (now) husband, Tyler. Our first adventure took us through Indonesia, China and the hot spots of Southeast Asia. Having been bitten by the "travel bug" we came home for 2 and a half years with the intention to save as much money as possible and do it all again. Unexpectedly, a snowy Valentine's proposal lead to an intimate autumn wedding at a cottage with our closest family and friends. Four days after tying the knot, we were in Honduras to begin the worlds greatest honeymoon. We travelled south from Honduras to Peru then flew over to Asia, our second home.
Twice Tyler and I have left our jobs, sold all of our stuff, wandered around the globe and come back to London to start again.
This time we are back for good. Well, for a few years any way. Our backpacks are collecting dust and we are happy settling in to some form of a "normal" life. We recently moved to Old South with our cat Sofia and are really looking forward to being in one place long enough to grow some roots.