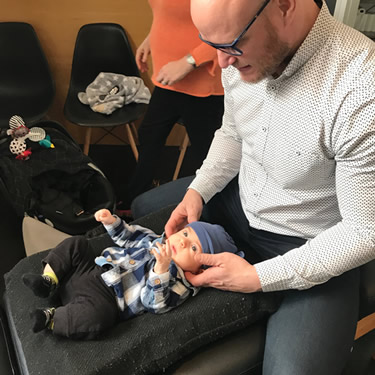 Pediatric Chiropractic at
Cafe of Life Chiropractic Studio
Pediatric chiropractic is a gentle chiropractic adjustment designed specifically for the unique needs of newborns, babies and children.
The nervous system controls all function in the body. That means that it's crucial for children as young as a day old to get off to a great start in life by optimising that function.
Research has shown that 80% of all normal births include some damage to the upper neck of the baby. Therefore, it's vital for kids to have a spinal checkup as soon as possible.
Conditions That Respond Well to Chiropractic Care
As children pass through the developmental stages of growth, they become prone to various unwanted symptoms. Chiropractic care has demonstrated tremendous success in helping children with the following conditions:
ADD and ADHD
Autism
Colic
Constipation
Ear infections
Failure to thrive
Feeding difficulties
Reflux
Seizures
Sleep difficulties
Our care is always tailored to the size of the patient. The smaller the patient, the gentler the adjustment. For instance, when caring for newborns and babies, the force of the spinal correction is like the mild pressure used to check a tomato's ripeness. It would be similar to the touch of a fingertip on an eyeball.
Make an Appointment to See Us Today
If your baby or child is having issues, or you just want them to be as healthy as possible, come in and see us. Children under chiropractic care always stand out—they're healthier, happier and coast through life with greater ease. If your child is already experiencing health problems, it's a waste for them to become trapped in a system that doesn't work. We want to help.
Contact Dr. Joel Richards today for a free consultation to discuss pediatric chiropractic in London Ontario! Parents trust him, and kids adore his loving care.

Pediatric Chiropractor London Ontario | (519) 439-5353