New Patients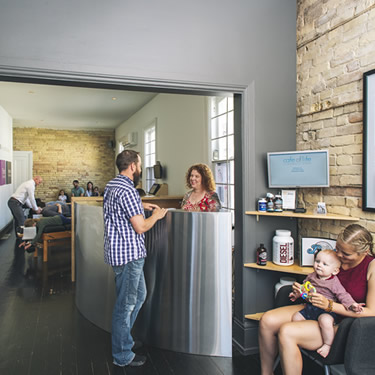 If you're visiting our chiropractic care centre for the first time, we'd like you to know exactly what to expect. It's our goal to make your visit with us relaxing and confidence-inspiring.
Our office is often described as warm, relaxing and fun, where practice members feel nurtured and supported. We feature soothing music and our patients love the open design concept of our office. We hope you do, too.
We advise you to download and fill out your paperwork before your first visit; this will save you about 15 minutes. Please wear comfy clothing for your evaluation.
NEW PATIENT PAPERWORK »

Your first appointment will take about 45 minutes. As you enter the office, you'll be warmly greeted and invited to complete your new patient paperwork if you haven't already done so. You'll then be escorted to a private consultation and examination room where you'll undergo a detailed assessment, including
A thorough consultation to see if we can be of help to you
A postural analysis
Mobility testing
State-of-the-art diagnostic scan technology. This assessment is noninvasive and painless. It includes heart rate variability testing and EMG scans.
A neurological evaluation conducted by Dr. Joel Richards to determine the health and condition of your spine
Your second appointment will take about 30 minutes. During this visit, Dr. Joel will evaluate your examination and scan findings to help you understand the source of your problem. He'll also discuss customised care options to help you meet your stated goals. We want you to start feeling your best as quickly as possible.
Your visit will conclude with your first gentle chiropractic adjustment.
Ongoing appointments average about 10-15 minutes in length, depending on your condition. Consistent adjustments are initially essential to help your body recover and heal.
Watch our video on what you can expect at your visit
Life by Design

We find that the more knowledgeable practice members are about health in general, the better they feel. The Cafe of Life Chiropractic Studio offers a series of engaging seminars called "Life by Design." These presentations include
Power by Design
Think by Design
Eat by Design
Move by Design
Our talks are free and are given in the clinic itself, as well as our gym, West London Ontario CrossFit.
Book an Appointment Today
Our practice members understand that regular care is a valuable investment in their recovery and wellbeing.
Contact the Cafe of Life Chiropractic Studio today to schedule your complimentary consultation with Dr. Joel. We'll let you know if we may be able to help. If not, we'll let you know who can at no cost to you. We feature late appointments, free parking and accept insurance.

Cafe of Life Chiropractic Studio New Patients | (519) 439-5353