Chiropractic Care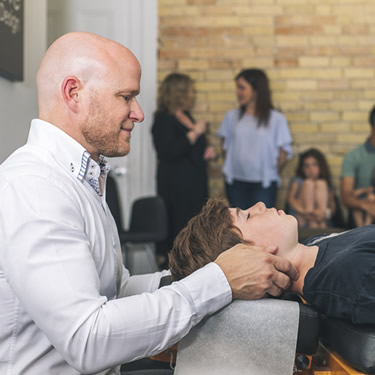 The spine and nervous system run the body. If there's interference in that system, the body's not going to work as well. In time, that's going to lead to breakdowns and will result in unwanted symptoms.
Chiropractors check and adjust the spine. When we do an evaluation, we're assessing the severity of the misalignments in the back and neck. If they exist, we start a correction process. Through that corrective process, the spine begins to heal and becomes more mobile.
Communication in the nervous system becomes more functional. As a result of this improved function, the symptoms you came in with begin to disappear.
Benefits of Chiropractic Care
The majority of our practice members experience better health and improved vitality when adjusted on a consistent basis. They frequently report a rewarding sense of wellbeing and the reduction or complete elimination of pain.
Other benefits include better sleep, improved digestion, increased energy and a strengthening of the immune system.
Conditions That Respond Well to Our Customised Care
We take care of people of all ages with a variety of uncomfortable symptoms. From babies suffering from feeding problems to athletes enduring sports injuries, we are here to help. Here are some common conditions that we see:
Back and neck pain
Disc problems
Colic and ear infections
Dizziness
Headaches and migraines
Numbness and tingling
Poor range-of-motion
Pregnancy issues
Sleeplessness/restlessness
Ringing in the ears
Our Popular Techniques
At the Cafe of Life Chiropractic Studio we offer our practice members a variety of research-based techniques that are gentle and efficient.
These techniques include both manual and instrument-assisted approaches. They include Activator Methods®, Diversified, Thompson Drop-Table, Toggle Recoil, Torque Release and Upper Cervical Specific.
We offer full spine adjusting that's specific and non-aggressive. Your comfort is always key. We'll always match your needs to the technique that will provide you with great results.
Start Feeling Terrific Today
If you or someone you love is suffering from a painful or chronic condition, we invite you to contact our London Ontario practice. Schedule your complimentary consultation with Dr. Joel Richards today! We'll let you know if we can be of help. If not, we'll let you know who can help. We offer free parking, late hours and accept insurance.

Chiropractic Care London Ontario | (519) 439-5353