Why CrossFit Masters should be required viewing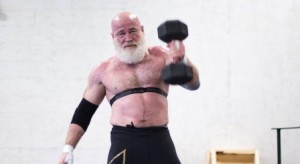 The CrossFit Games has finished for another year and while everyone was cheering on the elite Men and Women as they competed in 5 days of grueling competition, the CrossFit Games actually opened the week with the Masters vying for the title of the World's fittest in their age grouping.
While the Masters don't get the hype or sponsorship as the youngsters, these veteran athletes deserve far more attention than they get. Why? Because these cats can move — They are a testament that ageing isn't about getting decrepit and weak. It's about being active, growing and constantly striving to be the best version of yourself.
For instance, this year after 2 days and 6 other events the 60+ Women competed the Final: 27 pull-ups, with 2 rounds of 12 deadlifts, 9 hang power cleans and 6 jerks with an 95lb axel bar while the 60+ Men had a weight of 135lb. I can tell you a good majority of the athletes at West London CrossFit would struggle with this workout (myself included) and these Masters made it look so easy. So easy, you forget that they are someone's grandparents.
In fact, 61 year old Canadian and Life by Designer, James Kelleher, has only gotten stronger since he started doing CrossFit a few years ago. In his first year at age 58, he weighed 150lbs and by his own accounts was 'weak'. In his second year, he missed going to the Games because he couldn't press a 'measly' 115lbs over his shoulders and vowed to make it the next one. In 2015 and now in the 60+ category, James weighed in at 162lbs and qualified for the Games like he said he would. He finished 14th overall. This year, James went into the Games at 172lbs and finished 8th and "the strongest he's ever been". 
 In 2016, Canadian & CrossFit athlete James Kelleher placed 8th in the Men's 60+ category

This reminds about the video Dr. Joel plays at our report night and we have playing on our office daily. Maybe you've seen it, it's a side-by-side comparison of an older gentleman with one side of him striving for health while the other side settles. In just 20 seconds it drives home how important the choices we make for our health are and more importantly, that it's never too late to start winning back health. It is our natural state after all.
Trust me, I get it. After my 3rd son was born, I had bottomed out. I visited Starbucks almost daily to give me the pick me up to get me through my long English teaching days. I had terrible shoulder pain and found it frustrating to do anything at the gym. I can remember looking in the mirror at my soft and pudgy body and thinking, 'Well, I guess this is it, my best days are behind me and I'll have to settle for this'. I shake my head now that I ever thought that and fortunately it was that thought alone that gave me the spark I needed to get moving again. It hasn't been a straight line but things certainly fell into place for me after I was introduced to Life by Design, getting my nervous system checked and attending CrossFit. Like James, I can say, "I'm the strongest I've ever been" and only getting stronger.
Sadly, a majority of people don't have that 'what the hell am I thinking moment' like I did. They do settle and once they do, they're shocked by how slippery of a slope that mindset can be. It's a shame that James and the rest of the master athletes have to be seen as outliers of health and wellness and not the leaders of it — People who follow the Life by Design principles of Move, Eat, Think and most importantly, Power. Keeping their nervous system humming with regular chiropractic check-ups.
So check out the Games Master athletes compete, it's all on YouTube and it's a great reminder that there is no age limit on movement & it's never too late to make health and wellness your norm.